This site uses cookies, by continuing to use this site you are agreeing to their use. Learn More
merriments
| | | |
| --- | --- | --- |
| Click on the thumbnails to get a larger picture, then on | | on the top LHS of the screen to return to this page. |
Coach trip arranged by the Herts. Hardy Plant Society
The acclaimed Merriments gardens were laid out on yellow clay in the early 1980s, covering four acres. They are made up of several different areas, including the Wild Area, the colour-themed Golden Border, the Ponds & Tropical border, which were constructed only recently, and the Formal Garden. Also of interest are the Blue Gravel Garden (agapanthus, delphiniums and grasses) and the Hot Border.
The adjoining nursery has an excellent selection of plants for sale, some of which can be seen growing in the garden; their stock-list includes a number of unusual plants which should kindle a lot of interest.
There is a restaurant at Merriments selling hot meals, sandwiches and baguettes, as well as a wide selection of drinks and even desserts. There are two or three gluten-free and/or vegetarian options available, including filled jacket potatoes.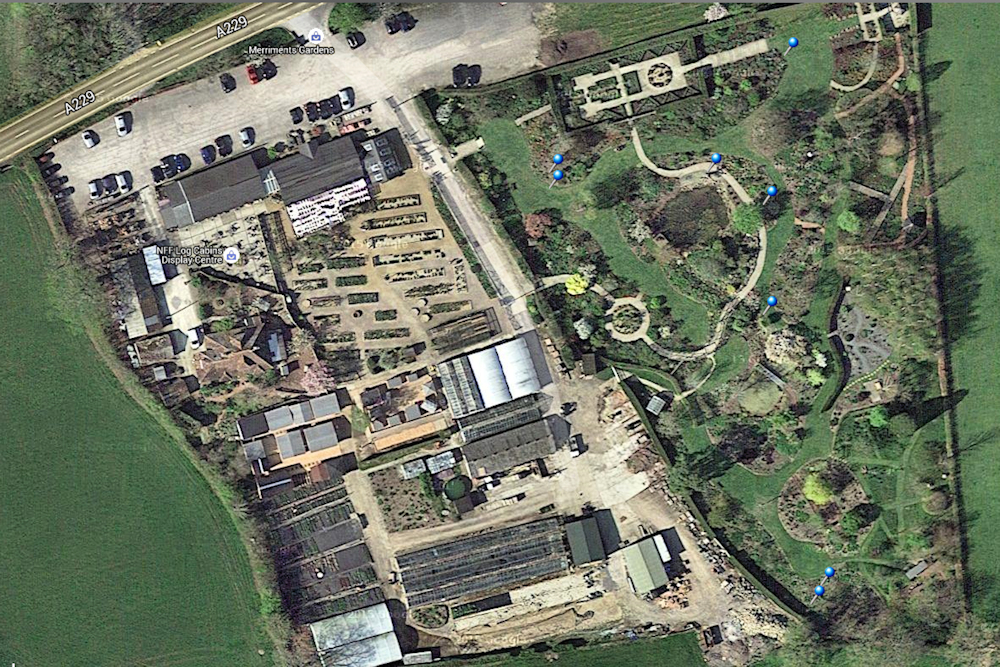 First plantings we saw by the entrance to the garden

Foxgloves abounded

possibly Rosa 'The Pilgrim'

Solanum crispum

Heuchera Peach flambé

Canal in the formal garden

Erigeron karvinskianus

Rosa Golden Wings

I like the colour combimation

Opium poppy

Judas tree

Deutzia Strawberry Fields

Valerian and Double peony

Half-0pen peony

Single peony

Linaria dalmatica

Opium poppy

Hypericum olympicum

Euphorbia myrsinites moulding to a rock

Damp gully

Delicate scent on this climbing rose

Oenothera stricta was all over the garden

Pale blues and white in flower and foliage

Cornus

Amicia zygomeris

Candelabra Primula

Opium poppies

Ox-eye daisies in the border

Yellow red hot poker

Acer griseum with rich brown peeling bark

and a Eucalyptus with toning Des-Res

For Liz - Rosa 'First Great Western'

We had an early lunch in the restaurant - Meat platter with cider / beer. The food was outstanding everything grown locally and full of flavour. There was some retail therapy and we drove on to Great Dixter.
great dixter
The gps did not perform, so this is the map without pins
The home and garden of the late Christopher Lloyd at Great Dixter really need no introduction. Most of the garden design was originally by Lutyens, consisting mainly of mixed borders with no specific colour schemes, in contrast to Merriments. Areas include a damp 'Cat Garden' (the planting includes caltha, geraniums & lilacs), the Barn Garden, the Topiary Lawn and the famous Long Border with its succession planting. Possibly the most famous part of Great Dixter is the Exotic Garden, where Christo notoriously dug up the old formal rose beds, replacing them with a riot of exotic planting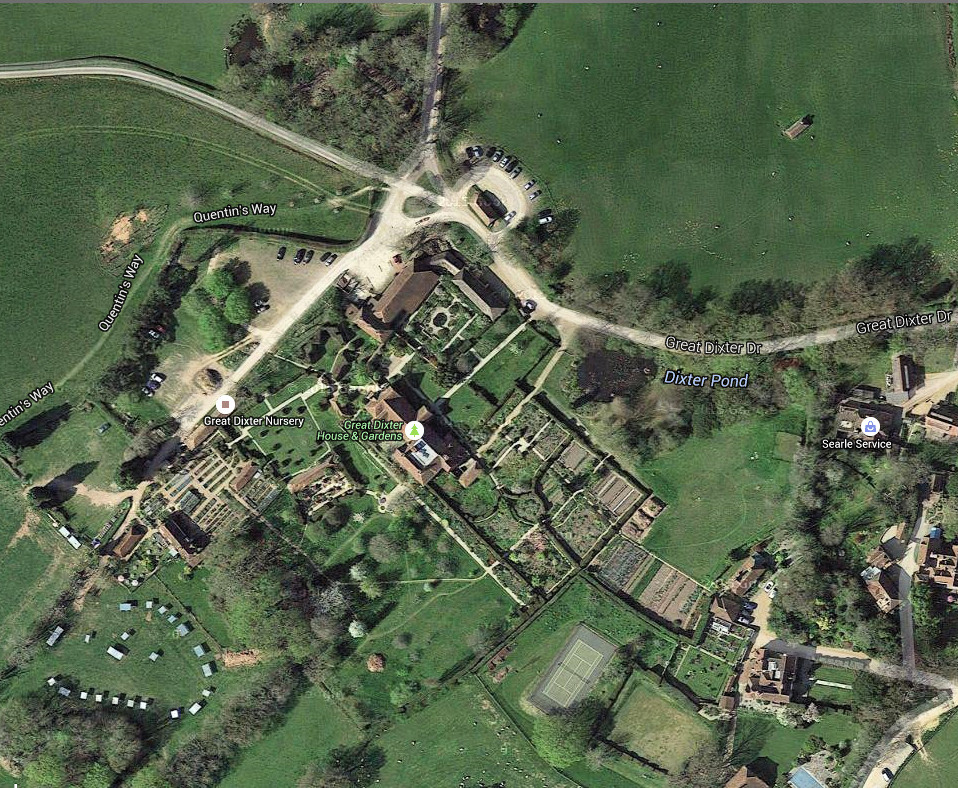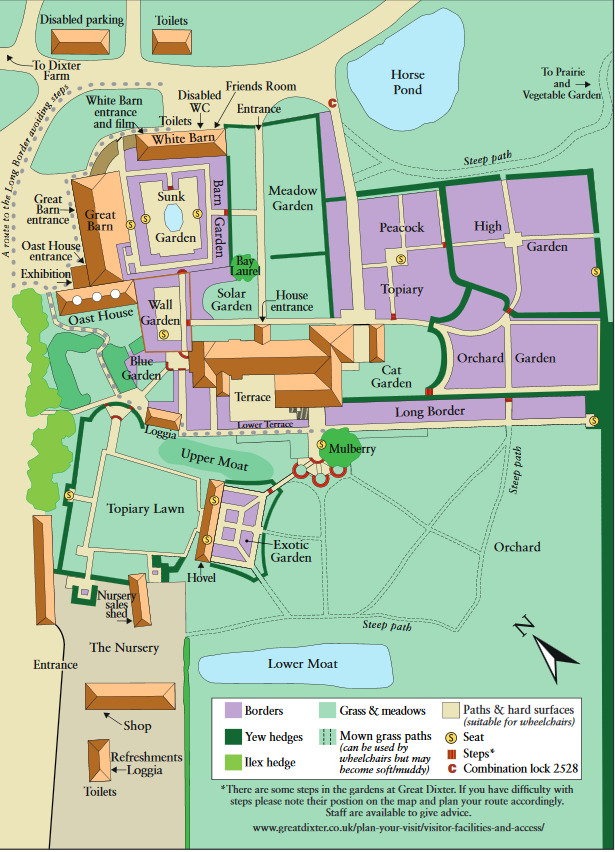 Orchids in the meadow

Great Dixter

Outside front door

Outside front door

New bamboo shoots

Antirrhinums on parade

Another display in pots

Paris polyphylla - flowers from seed in 5-7 years

One of the many varieties of annual poppy

Dianthus 'Loveliness'

Phlox paniculata var.

Rosa mutabilis

Rosa 'Cécile Brunner'

Tiny little rose, but exquisite especially before it opens fully

Sweetly scented everlasting flowers

Linum grandiflorum rubrum everyone loved this plant

Paradisia liliastrum - St. Bruno's Lily

Rusty Red lupins

Small flowered gladiolus

Annual poppies

Californian poppies in a trough

Equisetum - horsetails

Iris 'Gerald Darby'

Berkheya purpurea - an untidy plant...

Frilly opium poppy

Clematis

Astrantia major var.

Lychnis × arkwrightii

Choc-a-block border

Long border

Favourite plant again

In the long border

Long herbaceous border as a somewhat distorted panorama

Poppy

Great Dixter

Silver leaves

Wonderful Canna leaves

Inside the Hovel

The Exotic Garden

One of my favourite flowers Aquilegia chrysantha planted en masse in a large bed

Rambler on the Hovel

Antirrhinums with a touch of blue

Daisies featured on a lawn

Dactylorhiza fuchsii

Great Dixter

Salvia sclarea 'Turkestanica'

Ox-eye daisy with cricket

Pale form of the flax

Single flowered HT rose Rosa 'Mrs Oakley Fisher'

Everlasting flowers

Tree fern

Single flowered white HT rose Rosa 'White Wings'

Umbellifer

Sempervivums on the roof

The journey home was a bit longer than the outward one, but were still home in good time. The cats were ready for supper.